Employee Benefits
Bean Automotive Benefits
We believe people go first. That's why we focus on a work environment that supports employees' personal lives as well as their professional lives. Our associates enjoy a competitive compensation and benefits package that is among the best in the industry.
WEALTH
A focus on the investment in employees' current and future financial health
Signing bonus for qualified positions
Traditional & ROTH 401(k) with 50% Employer Match
Continuing Education, Manufacturer Hands-On and Web-Based Training
Employer Paid Life and AD&D insurance
Short and Long-Term Disability Insurance
Home Ownership Programs
Financial Counseling Services
Free Uniform Service for Qualifying Positions
Home Ownership Assistance Programs
HEALTH
A focus on the overall health and wellness of our employees and families
Employer Paid Medical, RX and GAP Insurance
Dental Insurance
Vision Insurance
Award-Winning Wellness
Program and Healthcare Premium Incentives
Nutritional Coaching Program and Discounted Meal Delivery Services
Tobacco Cessation Assistance
Free Flu Shots
On-Site Preventive Health Screenings
Supplemental Insurance Plans
WORK-LIFE
A focus on a work environment that supports employees' professional and personal lives
3 Weeks of Paid Time Off
Employee Assistance Program
8 Hours Paid Volunteer Time
Maternity Support Program
On-Site Cafe Discounts
Stress Management Programs
Employer sponsored volunteer program
Dealership Product and Service Discounts
Bean Automotive Group is recognized as one of South Florida's Best Places to Work.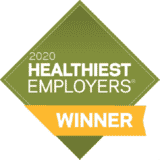 2020 Healthiest 100 Workplaces in America
Healthiest Employers® has named Bean Automotive Group one of the Healthiest 100 Workplaces in America. Ranking number 33 in the list, Bean Auto continues to work hard investing in the well-being of it's employees even in the face of a global pandemic.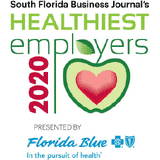 2020 Healthiest Employers by the South Florida Business Journal
We're honored to be once again, for a third time in a row, named Healthiest Employer by the South Florida Business Journal. Our health initiatives such as Tune-Up Your Health have truly transformed our corporate identity and we're thankful to our employees for their commitment to each other.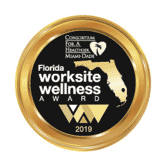 2019 Florida Worksite Wellness Awards
The Florida Department of Health in Miami-Dade County's Consortium for a Healthier Miami-Dade awards Bean Automotive Group the Florida Worksite Wellness Award for it's commitment to employee wellness and positive health outcomes.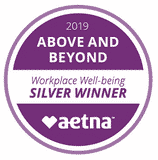 Aetna Workplace Well-Being Awards 2019
The Aetna Workplace Well-Being Awards recognizes Bean Automotive Group as a company that goes above and beyond to encourage health and wellness among employees.
Learn more about Bean Automotive Health and Wellness programs.