Bean Automotive Group's wild collaboration is saving Florida's ecosystem!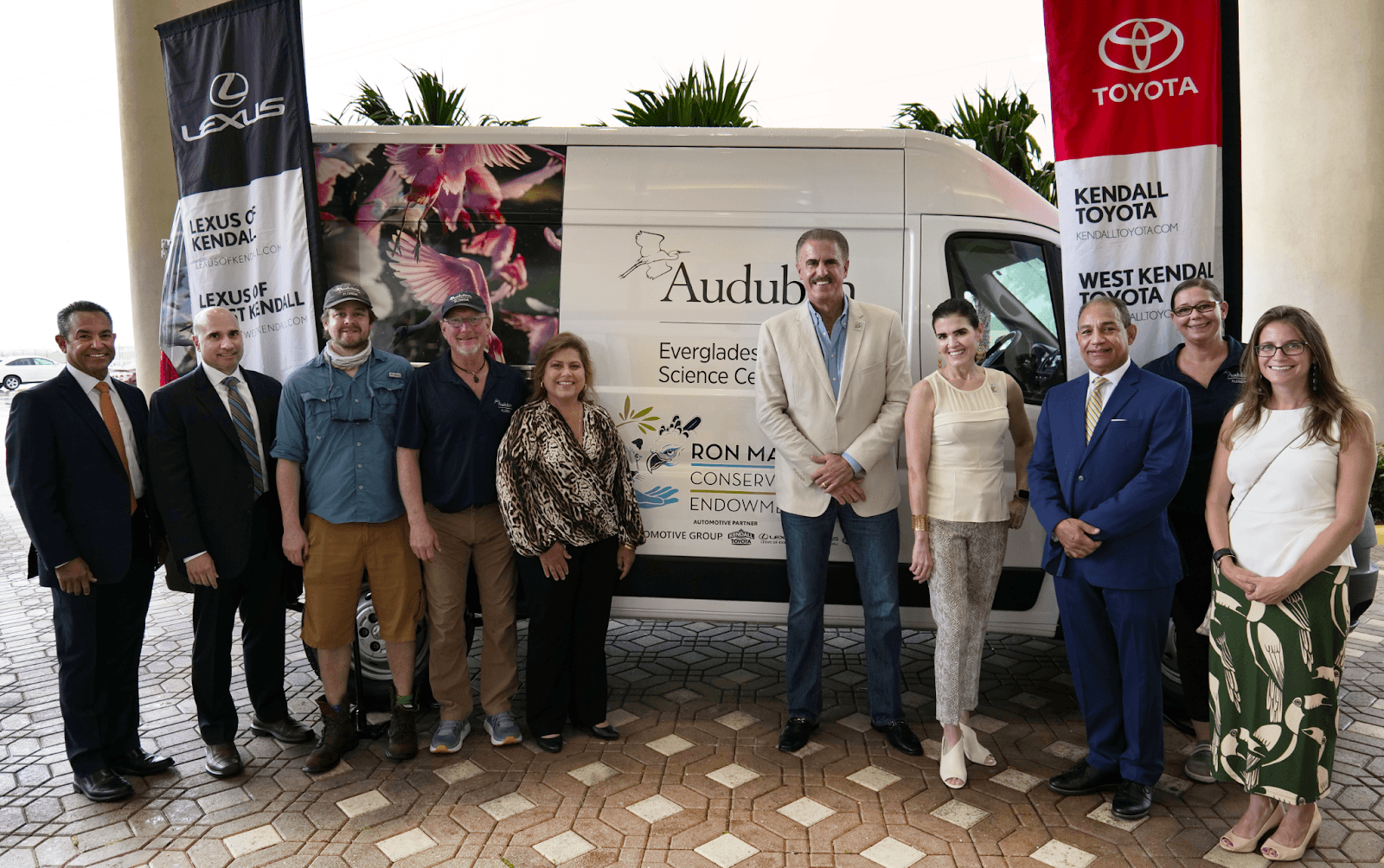 Last month we had the pleasure of welcoming Ron Magill, Zoo Miami's Goodwill Ambassador and Ana Milton, President of the Jose Milton Foundation, for the unveiling of the new Audubon Everglades Science Center research van.
It was a rainy morning that began with a group prayer in gratitude of all the organizations that came together to make the gifting of the van possible. Huddled together in tribute to each other's efforts in protecting Florida's wildlife provided a much brighter atmosphere than the weather intended.
"This is such a huge story of several groups coming together to help out for one cause. I am so proud to be a part of this," said Mr. Magill during a sweet speech to show his appreciation.
For over a century, Audubon Florida has used science to monitor birdlife and measure our ecosystem's health. They advocate for the protection of land, water and wildlife. Their extensive research in the Everglades and coastal bird habits has allowed them to manage sanctuaries covering thousands of acres of land.
The uniquely designed, spacious RAM ProMaster included donated photography by wildlife photographer Mac Stone and featured a gorgeous array of Roseate Spoonbills. The magical ecology of Florida Bay's spoonbills has been studied by the Audubon center since 1939. The truck was carefully designed so the team may be recognized while they promote the appreciation of public land. It is through their efforts that our community continues to cherish Florida's natural beauty and wildlife.
"My most profound gratitude goes to Dr. Jerry Lorenz, Research Director for Audubon Florida, for his great leadership at the Everglades Science Center and for inspiring me to provide whatever support I can," said Magill.
Mrs. Milton (pictured to the right of Mr. Magill) chairs the executive board of The Zoo Miami foundation and is a leading supporter of the Ron Magill Conservation Endowment Fund.
Magill says "In my 41 years at Zoo Miami, there has never been a more impressive and active board member than Ana Milton." Her efforts annually provide thousands of dollars in wildlife conservation support.
Magill also expressed his gratitude for Bean Automotive Group's involvement in the generous contribution and recognized our Corporate Ambassador, Joaquin Azar, who served as a liaison to coordinate the collaboration between the organizations. Our very own Principal Owner, Lori Bean, was also recognized for her love of animals and continued involvement in Ron Magill's wildlife efforts.