Bean Automotive Welcomes The MDC Sharks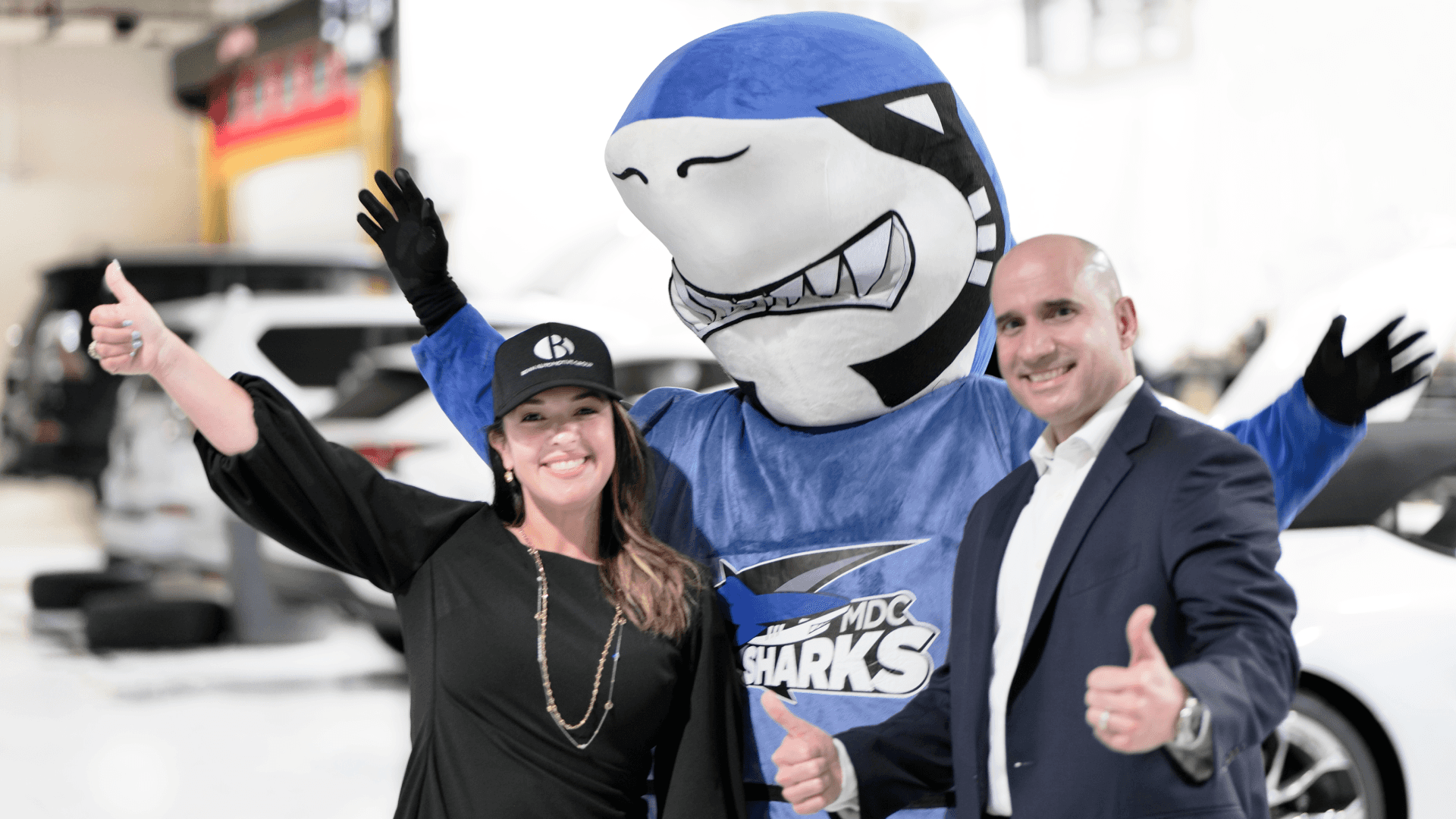 Bean Automotive Group joins forces with Miami Dade College to inaugurate the dealership's first automotive technician apprenticeship program.
This was made possible with the assistance of the Miami Dade Beacon Council and Career Source of South Florida, who is also a key partner of the program. The apprenticeship will involve classroom instruction and on the job training to give MDC students the opportunity to get paid while learning the skills necessary to graduate as professional auto technician specialists.
In an automotive industry that is constantly seeking talent, Bean Automotive Group is putting its best foot forward to educate technicians and continue demonstrating the company's commitment to keep moving towards the future.
"What better way to execute our vision of being the leading automotive group than by serving our communities and associates with an opportunity for a life-long, lucrative career in the auto industry, with Bean Automotive Group, who has served the local community in Miami-Dade for more than 52 years," says Bean Auto Group's Chief Financial Officer George Wiltz.
They're targeting eager, proficient techs with a passion for high-tech automobiles. The company hopes this initiative will enhance employment opportunities for local talent and increase the number of specialized auto pros in all of its four facilities: Kendall Toyota, West Kendall Toyota, Lexus of Kendall, and Lexus of West Kendall.
Wiltz says the company will also "train and develop automotive technicians with an excellent customer service philosophy, which is the key to Bean Automotive Group's continued success."
Certified technicians will be given the flexibility to work in distinct dealership locations after graduation. Students can also expect to receive a variety of health insurance benefits, free tuition, books, and toolkits. After completing a full year, participants will earn an Apprenticeship Certificate of Completion and will be ready to show off their skills as professional Automotive Trained Specialists.
Applicants will go to www.mdc.edu/apprenticeships/ and click on "SEE IF I QUALIFY." They'll then be directed to a short questionnaire, follow the instructions and submit it to see if they get the green light!
###
About Bean Automotive Group
Since 1969, Bean Automotive Group has been committed to serving its customers as the leading auto dealer in South Florida. A customer-centric focus differentiates them in the industry, providing car shoppers with a simplified buying process.
Treating associates and employees with the utmost ethical standards, Dealer Principal Lori Bean is recognized as one of the industry's top women leaders. The group serves its 700 associates through fitness and wellness programs, earning it the title of South Florida's Healthiest Employer in 2021.
Above and beyond, Bean Automotive Group gives back to its community through volunteer hours and corporate contributions to Live Like Bella® Childhood Cancer, Habitat for Humanity, and Miami-Dade County Public Schools among others. For a full list of charitable partners please visit www.beanauto.com/community.
Visit Bean Automotive Group's sales and service locations at Kendall Toyota, West Kendall Toyota, Lexus of Kendall, and Lexus of West Kendall. For more information contact 305-KENDALL or visit www.BeanAuto.com.