Bean Automotive Group is Building up the Local Community
Habitat for Humanity of Greater Miami helps transform the lives of low-income families in Miami-Dade County with affordable home ownership opportunities. They do this through corporate sponsorships, volunteers, and the hard work and dedication of the future homeowner.
Bean Automotive Group has sponsored five Habitat for Humanity homes over the last few years. This year, the auto group sponsored a home for Shercola, an extremely hard-working and deserving mother of three. In addition to applying for the home through Habitat for Humanity, Shercola also had to dedicate at least 250 hours of "sweat equity" throughout the duration of her home build. But she wasn't alone, five different groups of Bean Automotive associates helped her along the way.
On October 12th, the first group of Bean Automotive associates from Kendall Toyota and Lexus of Kendall helped Shercola and the builders with drywall installation. The team put their gloves on and got to work early putting up drywall everywhere in the house, from the ceiling to the closets and everywhere in between. After the first group, the second group of Bean Automotive associates from West Kendall Toyota and Lexus of West Kendall arrived the next day. They continued installing drywall and finished the job.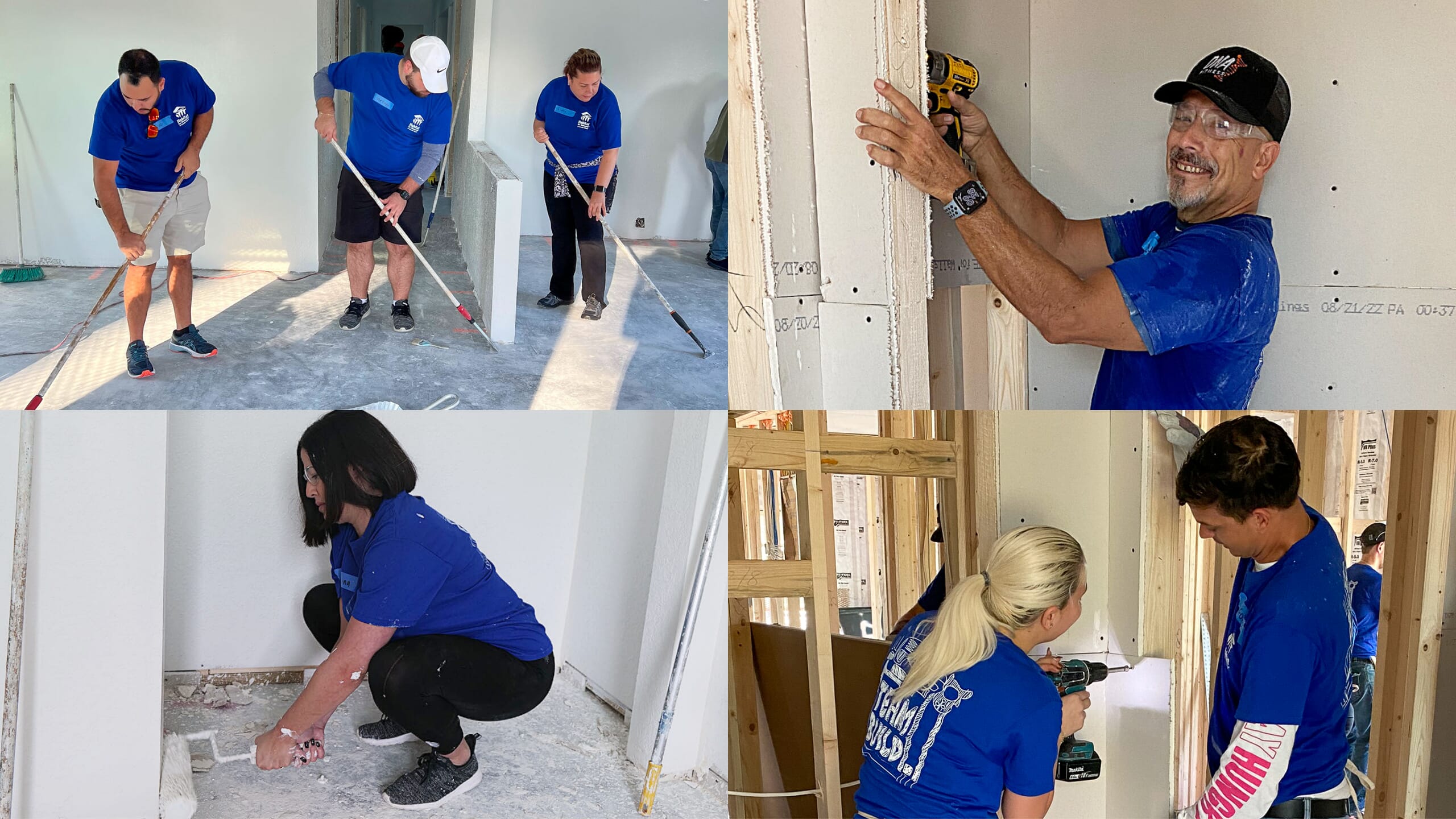 Bean Automotive Group associates from all 4 locations helped build this home from installing drywall and flooring, to painting.
The next week, a third group of associates came in and started painting the inside of the house. Ceilings, walls, window sills; everything got a nice coat of white paint. After the house was painted, the fourth group of associates came in the next day and installed the flooring throughout the house. The team learned how to properly measure, cut and install the vinyl floors. After a few hot hours, the team finished the entire house and Shercola is one step closer to moving into her dream home.
The last group of associates included the corporate team, President and CEO Chris Roberts, CFO George Wiltz, and Dealer Principal Lori Bean. The team got their hands dirty and landscaped the entire property, putting down sod and planting trees. This special day was also dedication day for Shercola, as she reached her 250 hours of sweat equity and has completed her required duties as a future Habitat homeowner.

Bean Automotive Group CFO George Wiltz (left) and President & CEO Chris Roberts (second from right) help plant a tree with the Bean Automotive team.
At the end of a long day of hard work, the dedication ceremony took place inside Shercola's future home. "We're so happy for Shercola as this is a huge accomplishment for her, and we wish her continued success in this beautiful home," said Lori to the group of Bean Automotive associates, Habitat staff, and Shercola's family members in attendance at the ceremony.
"This opportunity means so much to me," said Shercola tearfully. "There were times I wanted to give up, but you have to stay consistent in your journey to see the results. I'm actually standing in the house that will soon be mine, my kids and I are so grateful for the opportunity."
"Bean Automotive sets the standard for community engagement," said Mario Artecona, CEO of Habitat for Humanity of Greater Miami. "They are always there for Habitat. Not only do they generously give money to get the houses built, but they actually bring their staff out here and work really hard alongside the homeowner to make her dream come true."
An important part of Bean Automotive's vision is to serve the community, and Habitat for Humanity's impact on Miami is a huge reason why Lori Bean and the Bean Automotive Group support this great organization. "Our business is a part of building community," said Lori, "and the community is what has supported us, so we like to come out and support them and help build these houses."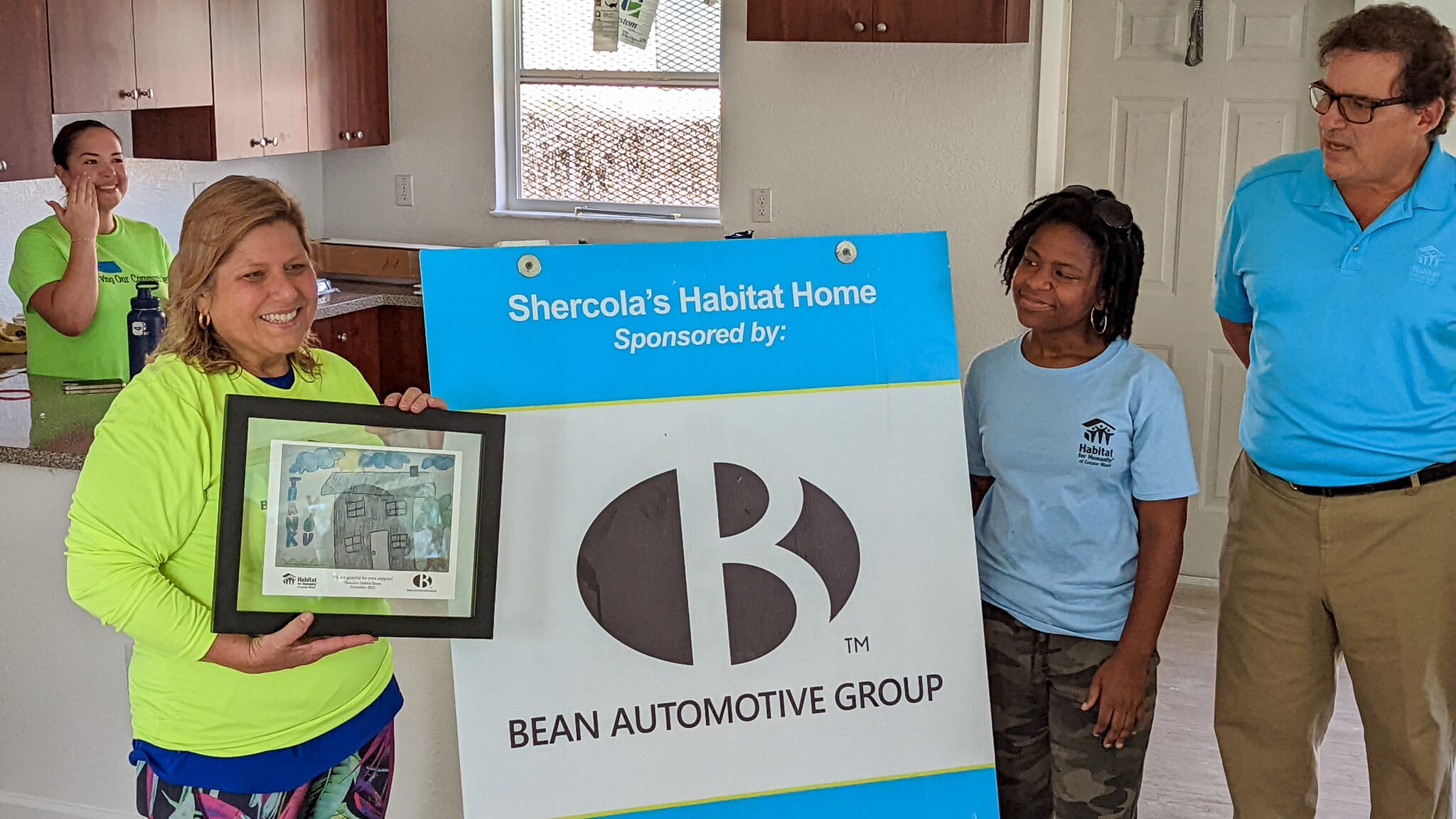 Homeowner Shercola and Habitat for Humanity CEO Mario Artecona stand by Bean Automotive Group Dealer Principal Lori Bean, she's holding a drawing of a house done by Shercola's children.
About Bean Automotive Group
Since 1969, Bean Automotive Group has been committed to serving its customers as the leading auto dealer in South Florida.  A customer-centric focus differentiates them in the industry, providing car shoppers with a simplified buying process. Treating associates and employees with the utmost ethical standards, Dealer Principal Lori Bean is recognized as one of the industry's top women leaders.  The group serves its 700 associates through fitness and wellness programs, earning it the title as South Florida's Healthiest Employer. Above and beyond, Bean Automotive Group gives back to its community through volunteer hours and corporate contributions to Live Like Bella® Childhood Cancer, Habitat for Humanity and Miami-Dade County Public Schools, among others. For a full list of charitable partners please visit www.beanauto.com/community. Visit Bean Automotive Group's sales and service locations at Kendall Toyota, West Kendall Toyota, Lexus of Kendall, and Lexus of West Kendall.  For more information contact 305-KENDALL or visit www.beanauto.com.