Kendall Toyota Celebrates with Miami-Dade Teacher of the Year, Teresa Murphy.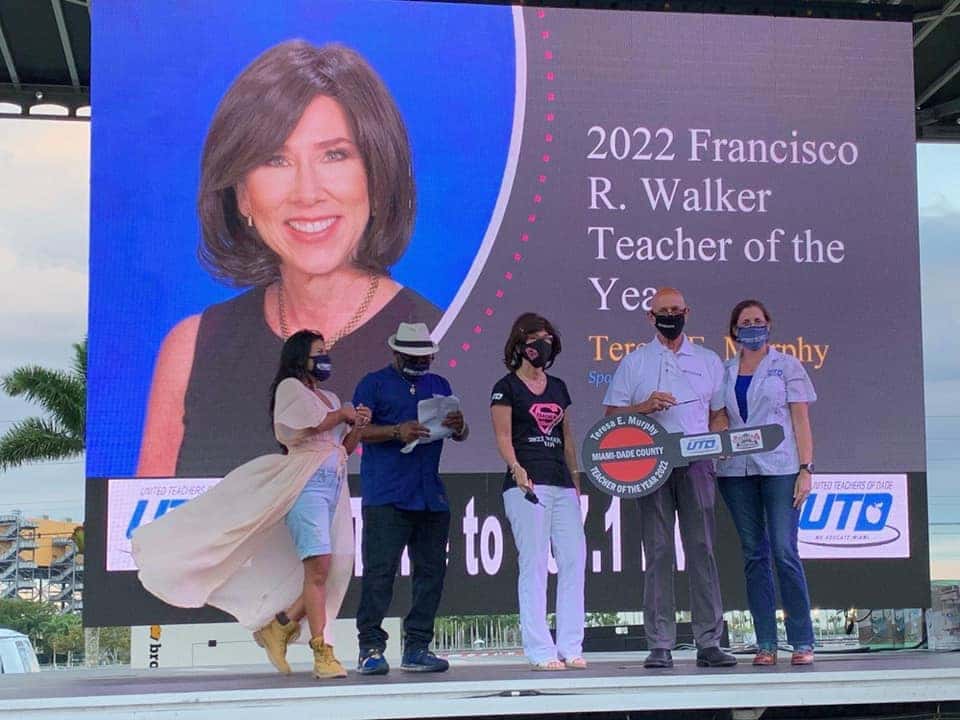 On Saturday, March 6, Miami-Dade teachers honked and cheered as Teacher of the Year, Teresa Murphy was presented a new Toyota Corolla from Kendall Toyota.
Every year, Kendall Toyota and Bean Automotive Group partner up with United Teachers of Dade to support and celebrate the outstanding teachers in Miami-Dade County Public Schools with a new Toyota. To practice social distancing, this year's UTD picnic was held as a drive-in ceremony at Homestead Speedway.
"I'm truly humbled by this honor, I can tell you that there are many teachers in these cars out here that have helped me get to where I am today. This is not done alone, as a teacher you know, we never do these things alone. It's a huge village we have behind us" said Murphy.
After an incomparable school year, third grade teacher Teresa Ellen Murphy is awarded a brand new 2021 Toyota Corolla from Kendall Toyota for being this year's 2022 Francisco R. Walker Miami-Dade County Teacher of the Year. After 27 years of teaching, Murphy demonstrates that with determination and passion anything is possible.
In the beginning of the pandemic when Spanish Lake Elementary School was forced to shut down in-person classes, Murphy saw online teaching as an opportunity for endless possibilities. She shared new practices with her colleagues and found ways to innovate and enhance the learning experience for her students. Right before the first day of school in August, Murphy was diagnosed with breast cancer. Despite the health challenges she faced, her focus was on her students. She continued to teach through chemotherapy and hid the sights and sounds of her treatment, using Zoom backgrounds during her teachings.
"We're so happy to support the teachers. We're so happy to be a partner with UTD," said Michael Cordero, Fleet Manager from Kendall Toyota. This is the 11th year Kendall Toyota has donated a new vehicle to the Miami-Dade County Teacher of the Year.
Murphy competed with fellow regional winners Candice Morris, of Goulds Elementary and Denise White from Juvenile Justice Center School. Runner-up was Yolette Mezadieu of Miami Edison Senior High. Though the picnic and ceremony were different, the prizes were the same.
Teresa Murphy is an inspiration to our community and Kendall Toyota and Bean Automotive Group are proud to be able to support our teachers.