Kendall Toyota Honors Miami-Dade Teacher of the Year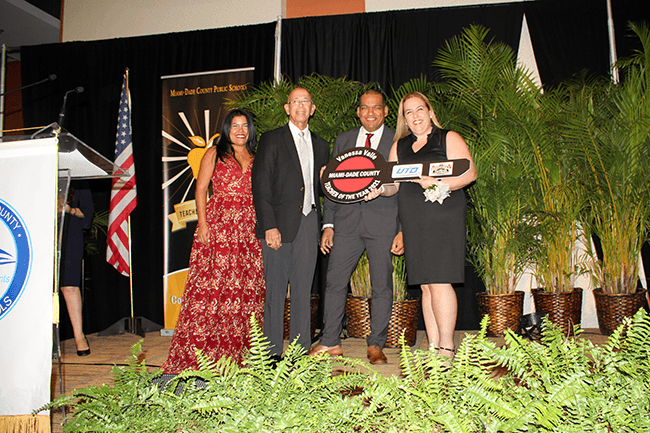 Miami, Florida- Kendall Toyota joined the United Teachers of Dade for the 2021 Francisco R. Walker Teacher of the Year. The event was held at the DoubleTree by Hilton Miami Airport & Convention Center on Thursday, January 30, 2019. Superintendent of Miami-Dade County Public Schools, Alberto M. Carvalho, announced the winner, Vanessa Valle. Presenting Valle the award for the all new 2020 Toyota Corolla was Michael Cordero and Julio Rivera from Kendall Toyota.
Vanessa Valle has been teaching at Hialeah Gardens Senior High School for most of her career. She is the lead teacher for her school's law academy, an English teacher, and the Reading Department chair. In her speech, Valle mentioned how she once struggled with reading comprehension until one day a teacher decided to help her. This was the spark that ignited her passion for education and to help struggling readers like her. 
Valle was recognized for her excellent work in helping impact the lives of her students. She says that 75 percent of her work as a teacher is challenging students to believe in themselves and the other 25 percent is implementing active learning practices for content acquisition. This idea has allowed her to create an enjoyable and engaging atmosphere where students are transformed.
The Francisco R. Walker Teacher of the Year Award recognizes the most outstanding teacher throughout the District. Valle was one of the four finalists recognized for the award. Alongside, Stephen M. Pereira Jr., of School for Advanced Studies, Ashley C. R. Vangates of George Washington Carver Elementary, and Lisa Y. Jones of C.O.P.E. Center North. 
Vanessa Valle also received $5,000 and a gift basket. She will also advance to the state-level Teacher of the Year competition held in Tallahassee where she will compete with the other 74 Florida district teachers of the year.
Bean Automotive Group is proud to give the Teacher of the Year a new car. It's the 10th year the Miami leading auto group has participated in the ceremony.