Kendall Toyota Celebrates Teachers at the 17th Annual United Teachers of Dade Picnic
Ms. Unethia V. Fox is the 2023 Teacher of the Year for Miami-Dade County Public Schools. She was awarded for her excellent work as a mathematics teacher for 19 years, and in addition, was awarded a new 2022 Toyota Corolla courtesy of Kendall Toyota. The delivery of the keys to the automobile was made at the 17th annual UTD Family Picnic at The Berry Farm, thanks to the sponsorship of Kendall Toyota and Bean Automotive Group.
Ms. Fox graduated from South Miami Senior High and is now a mathematics teacher at the same high school where she studied years ago. She is also the coach of the girls' basketball, volleyball, and flag football teams.
She is a teacher who is very passionate about her work and also an active participant in helping out the community. We wish you continued success in your career and enjoyment of your new Toyota Corolla.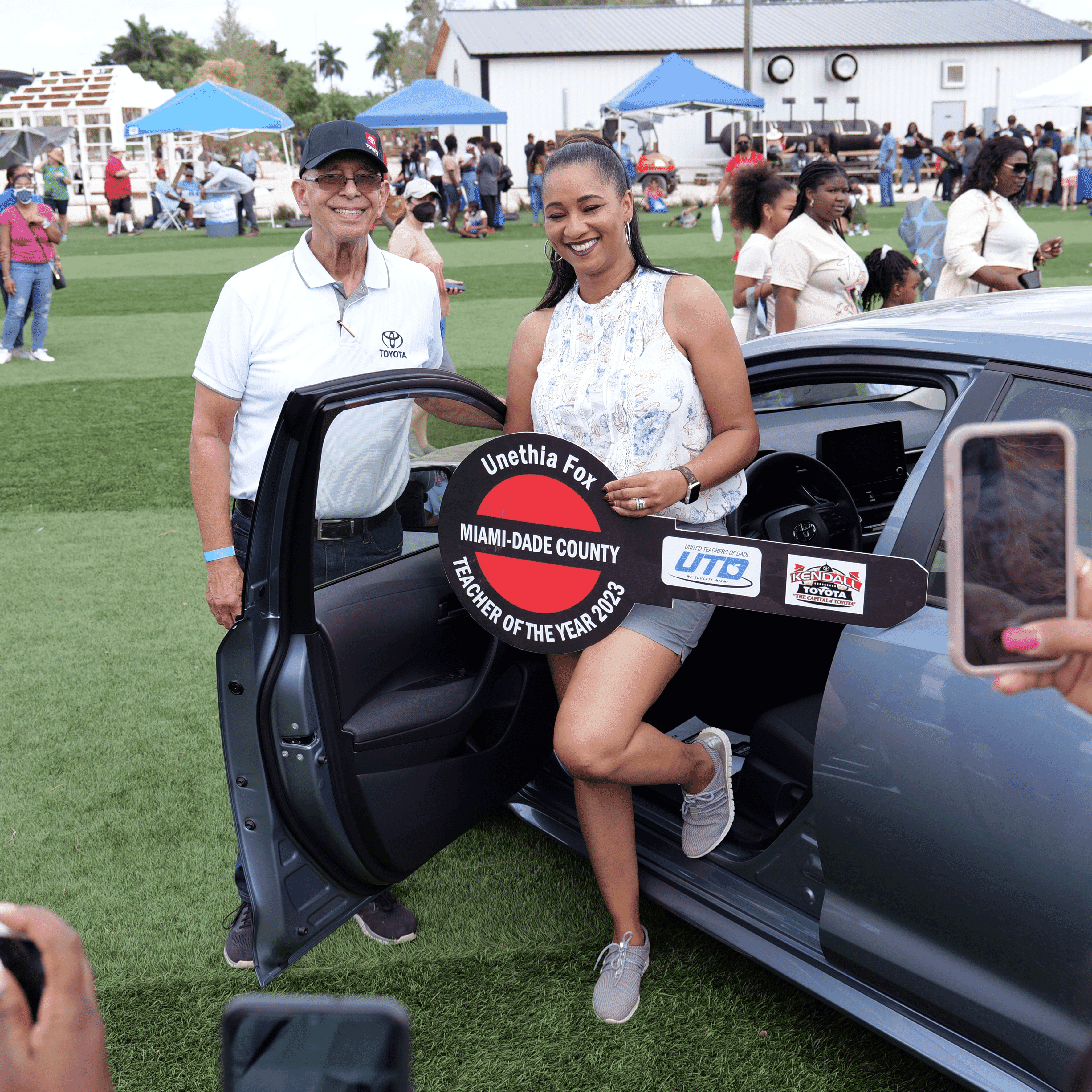 En Español
Unethia V. Fox is Miami-Dade County Public Schools' new Teacher of the Year, y fue premiada por su excelente labor como profesora de matemáticas desde hace 19 años, haciéndose acreedora del nuevo Toyota Corolla 2022. La entrega de las llaves de su nuevo automóvil se realizó en el picnic anual en el Berry Farm, gracias al auspicio de Kendall Toyota and Bean Automotive Group.
Ms Fox, se graduó en South Miami Senior High y ahora es profesora de matemáticas en el mismo colegio donde estudió hace algunos años. Además es coach del equipo de chicas del voleibol, basquetbol, y flag football.
Es una profesora muy apasionada por su trabajo y también participante activa para ayudar en la comunidad. Le deseamos que siga su exitosa carrera y que disfrute de su nuevo Toyota Corolla.